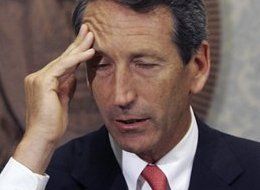 ROWA
[Republicans Out Wandering About]
* * * * *
read THIS tasty little tidbit about a prospective republican presidential candidate in 2012; he's right up there with sarah palin!
Sources Question Governor's Story
Gov. Mark Sanford Says He Disappeared To Go Hiking

POSTED: 5:01 pm EDT June 23, 2009
GREENVILLE, S.C. -- WYFF News 4 has received exclusive information from sources who say they have information about Gov. Mark Sanford's whereabouts during a mysterious absence over the past several days.
Sanford's wife Jenny said she last talked to him on Thursday, and though she didn't know where he is, she said she wasn't concerned. She said he had left to have time to write.
Joel Sawyer, communications director for the governor's office, then said the governor had been on the Appalachian Trail. Sawyer said staffers heard from Sanford on Tuesday morning and the governor plans to return Wednesday.
Sawyer said the governor is surprised by all the attention.
On Tuesday, sources told News 4's Nigel Robertson that a state vehicle is missing and was tracked down, not to the Appalachian Trail, but to the Hartsfield-Jackson Airport in Atlanta.
Sources told Robertson that a federal agent spotted Sanford in the airport boarding a plane. Robertson was told that the governor was not accompanied by security detail.
Sanford has been out of reach for more than four days, including Father's Day.
Sawyer has emphasized that the governor was hiking on the Appalachian Trail and that it wasn't something the staff or Jenny Sanford were concerned about.
But sources told WYFF News 4 that the federal agent who spotted Sanford saw him at the Atlanta airport, which is about 80 miles from the start of the trail.
WYFF News 4 has not yet confirmed where the plane was going or how the governor got to the airport, but it is clear there are two very different stories.
News 4 called the governor's office, and was told again by staffers that they stand by their original statement that the governor is hiking the Appalachian Trail. They did not want to comment on this story.
Previous Stories:
June 23, 2009:
Missing Governor 'Taken Aback' By Attention
i LOVE this stuff. don't have to make up the good news, do ya?