YOU'LL SEE THIS ONLY ON
TODAY'S SERMONETTE!!
still stinging after the embarassing failure of our usually intrepid snoops in the big apple, today's sermonette is proud to disclose this, scooping even the awesome folks at cyclingupdate.com, iowa's premier website for all things bike racing [and quickly growing to one of the best source for the midwest]:
cup o' no dirt cup presentation held in local coffee shop
bitter cold temperatures, and the compound fracture of his left clavicle, couldn't prevent an area dignitary from making an honest man of local bike promoter dave mable sunday, january 20, 2008, when several biking enthusiasts gathered at the ritual cafe for the recognition and presentation ceremony to bicycler g pickle in honor of his completion of the rigorous "dirty hunnerd" bicycle race.
the "dirty hunnert" race required participants to complete twelve 100-mile rides during calendar year 2007, of which at least a whole lot of the distance [somewhere around 75 to 80 miles or more] be ridden on gravel roads.
local cycling historian the mostly reverend is shown above giving g pickle a hearty "thumbs up" and presenting the traditional cup of no dirt in recognition of the fact that g pickle really is the only person to complete the task as originally envisioned by its creator, dave mable, who was unable to attend the formal presentation ceremonies, held in conjunction with the iowa bike colation's bicycle summit. also pictured, giving a double thumb's up, the traditional bicycler's sign of a job well done, is tarik saleh, keynote speaker at this year's saturday night gala held at the state historical building. to learn more about tarik, and his actaully very cool presentation, read here. tarik was here from los alamos, new mexico, and spent the weekend as guests of chad and dorothy hecht.
if dave had been there, he probably would have said something like "awesome job, dude. peace out."
the presentation to g pickle was the exciting conclusion of the four day "bike summit" held annually in des moines during the crappiest weekend of jaunary each year.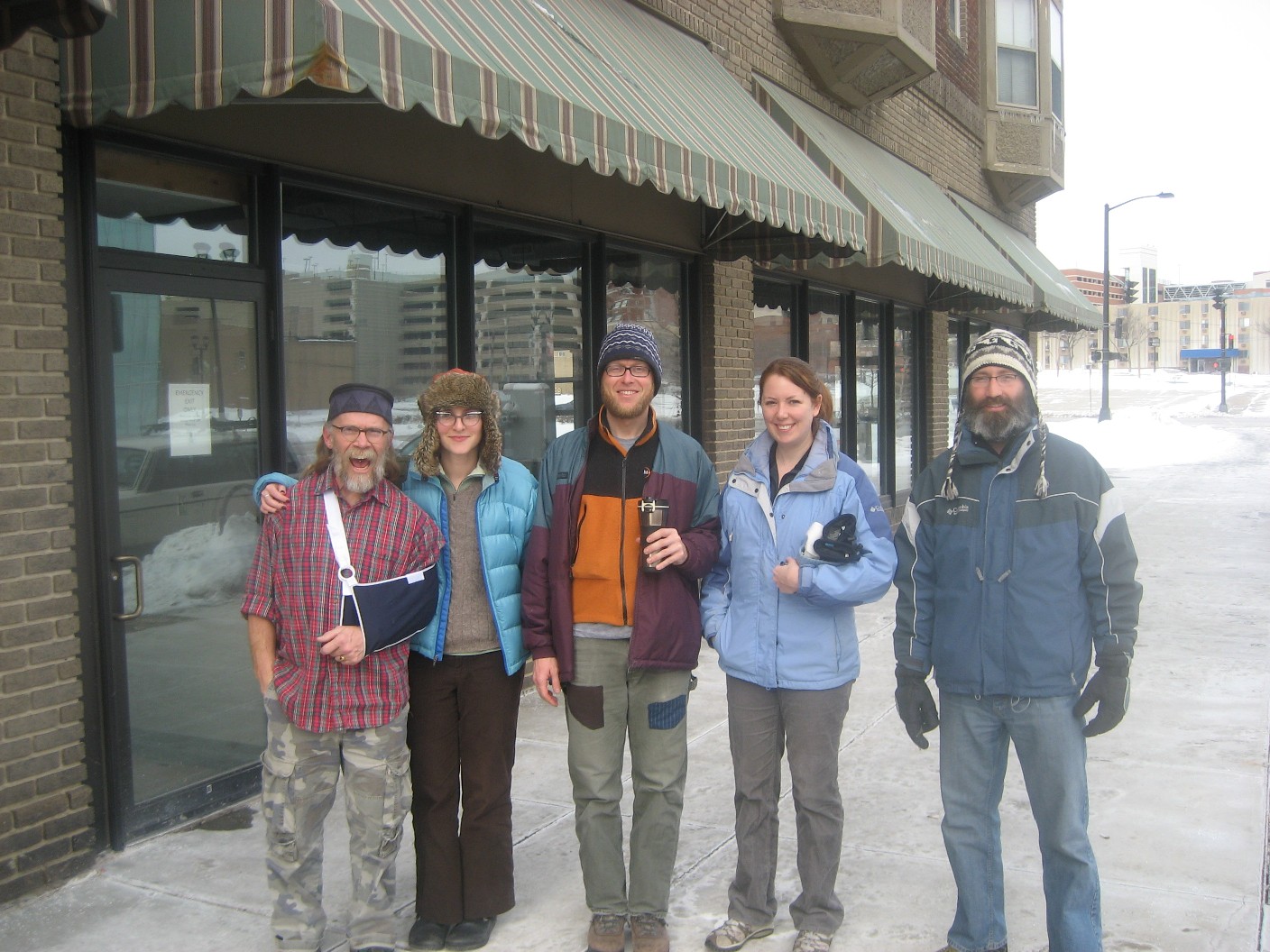 From left to right:
Kim Clavicle
,
Cody
and
G-Pickle
, Bike Iowa's Jen, and Chad VanDenLooeyNyjsVelde. not pictured is Chad's generous wife Dorothy, who was really nice too, but was rocking out at band practice when the photo took place...Thats some good facial hair there gentlemen. [photo from tarik's blog...thanks, tarik. it really was a gas meeting and hangin out with you. i'll make every effort to be healthy and not swimming in vicodin soup next time!]