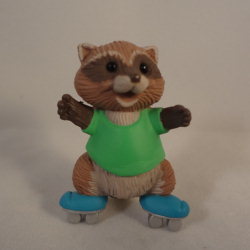 police have released this photo from art center security cameras they claim may be the elusive ice skating raccoon who assaulted an area bicyclist.

police have determined through dna found at the scene the identity of the assailant in friday afternoon's daring daylight snowball assault on an area bicyclist to be rock e. raccoon.

mr. raccoon has a long history of violent crime against people, and is shown here during a recent kidnap attempt.
if you know the whereabouts of this animal, call the police.
if you encounter this beast, get the hell out of there!